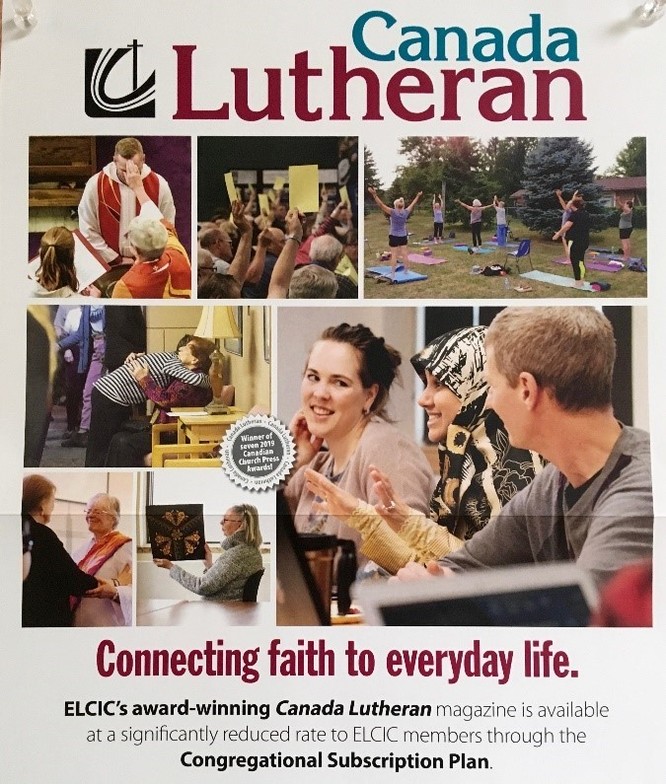 Hello Everyone
Our annual Fall Cleanup is happening on October 26th from 9 – 1:00. Please come as you are able and help clean up the garden and inside of the building. Food will be provided to help you keep up your strength!! If you are not able to help with the clean up – come anyway for coffee and a visit.
+++++++++++++++++++++++++++++++++++++++++++++++++++++++++++++
POTLUCK LUNCH AND OCTOBER BIRTHDAYS – on October 27th we will have our monthly potluck lunch and celebrate October birthdays Bring something to share and have a piece of birthday cake.
++++++++++++++++++++++++++++++++++++++++++++++++++++++++++++++++
The Canada Lutheran - your magazine
"Connecting Faith to Everyday Life"
Each month ELCIC's award-winning Canada Lutheran magazine features and in depth article about issues in the forefront of our lives. Medically assisted dying, politics, youth and suicide, loneliness in the elderly, have been some recent topics which the Canada Lutheran has tackled and examined from the perspective our faith. In addition, different voices across our national church contribute to a column about "Practicing our Faith" and readers learn about missional projects and other news from our five Synods as well as words of encouragement and reflections from all of our Bishops.
Please see Shelley about how to join the Congregational Subscription plan at a reduced rate. ++++++++++++++++++++++++++++++++++++++++++++++++++++++++++++
A REMINDER ABOUT THE FLOURISHING COMMUNITY SURVEY:
I did the survey this week and it didn't take very long, it is all multiple choice questions and you don't have to think really hard. I took less than the 20 minutes that they say it will. So give it a try – you can opt out at any time during the survey. It would be good if you could do this by the end of October. This Sunday we will have laptops at church for people to use and do the survey, and people who will help them with it.
Flourishing Congregations Survey
Our congregation has partnered with the Flourishing Congregations Institute to be part of a national Canadian study about what makes for strong congregations, and we would like your help!
Please take 20 minutes to fill out an anonymous national online survey at We hope for 50% or more of our adult attenders to fill out the 20 minute survey. With strong survey involvement, we will access data unique to our congregation. Fill out the survey in the next month and be entered into a draw for one of five $50 Amazon gift cards. To learn more about the survey, the larger project, and many of the anticipated benefits to arise, visit www.flourishingcongregations.org/national-survey.
The Church Council thanks you, in advance, for completing this survey! ++++++++++++++++++++++++++++++++++++++++++++++++++++++++
Reminder about the Regional Project
You are invited to help the homeless in North Vancouver. During October we are collecting: *Toothpaste *Tooth Brushes *New Socks *Backpacks * *Reusable Bags *Hats *Toques * Gloves * Mittens * Gently Used Clothing * Coats * Combs *Brushes
> The Lutheran and Anglican Churches listed below will provide a drop off for your donations. All items will be distributed to homeless people in North Vancouver.
> This is an initiative of the North Vancouver regional ministry of Lutheran and Anglican churches: Gloria Dei, Mount Olivet, St Agnes, St Catherine's, St Clement's, St John's and St Martin's.
See you on Sunday
Peace, Lin
"May today there be peace within.
May you trust God that you are exactly where you are meant to be.
May you not forget the infinite possibilities that are born ...of faith
May you use those gifts that you have received, and pass on the love that has been given to you.
May you be content knowing that you are a child of God. Let this presence settle into our bones, and allow your soul the freedom to sing, dance, praise and love. It is there for each and every one of you."
― Teresa of Ávila