This event has already occurred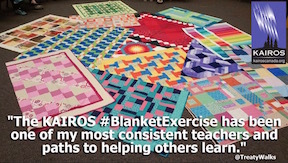 Save to your Calendar
Mark Your Calendars!
WHAT: KAIROS Blanket Exercise
WHEN: Saturday, Feb. 22, 1:30 - 4:30
WHERE: Gloria Dei
WHY?: To learn about the historic and contemporary relationship between Indigenous and non-Indigenous peoples in Canada
There is no cost to participation but registration is limited to 25.
Paper registration (for those without electronic access) will be available after church on January 26.
The KAIROS Blanket exercise is a teaching tool that builds awareness and understanding of our shared history as Indigenous and non-Indigenous peoples in Canada. It teaches a history of Canada that most people never learn, and participants come away with a deepened understanding of the denial of Indigenous peoples' nationhood throughout Canadian history. As the name suggests, the Blanket Exercise begins with blankets arranged on the floor to represent Canada before the arrival of European explorers and settlers. The participants, who represent Indigenous peoples, begin by moving around on the blankets. While the facilitator(s) reads from a script, other participants – representing the Europeans or newcomers – join and begin to interact with those on the blankets.
As Indigenous history unfolds some blankets are removed and they become a metaphor for disappearing lands and relocation to reservations. Because participants learn by "experiencing," the exercise reaches both the mind and heart and opens up possibilities for participants to learn how they can work towards reconciliation.
The Blanket Exercise was developed by the KAIROS organization in Canada in response to the 1996 Royal Commission on Aboriginal Peoples report.
KAIROS Canada is a confederation of 10 churches and religious organizations working to promote justice and human rights.
.