Did you know our community garden is one of six Sharing Gardens that make up the Edible Garden Project on the North Shore? For six years it has been providing fresh produce to the women at the Turning Point residence.
It was was another dry hot summer so Lin Parkinson, lead gardener, together with volunteers Margaret and Stella had to work out a watering schedule to ensure the vegetables didn't wilt and dry up. To date they have harvested 101pounds of produce with a couple of harvesting weeks left to go. A colorful addition this year were calendula flowers which are edible and make a great salad addtion. And I 'm sure that anyone feeling low, had their spirits lifted by the cheery row of sunflowers of various heights and blooms.
FUN FACT: Scientists call sunflowers hyperaccumulators; the New York Times calls them "toxic avengers with leaves." Sunflowers grow enthusiastically in all kinds of soils, including those tainted by toxic metals and radiation, and as they grow, their roots absorb and remove the poisons. Decontaminating the earth with plants is called phytoremediation. unflowers have been used to clear radiation on the Hiroshima, Chernobyl and Fukashima nuclear disaster sites.
~~~~~~~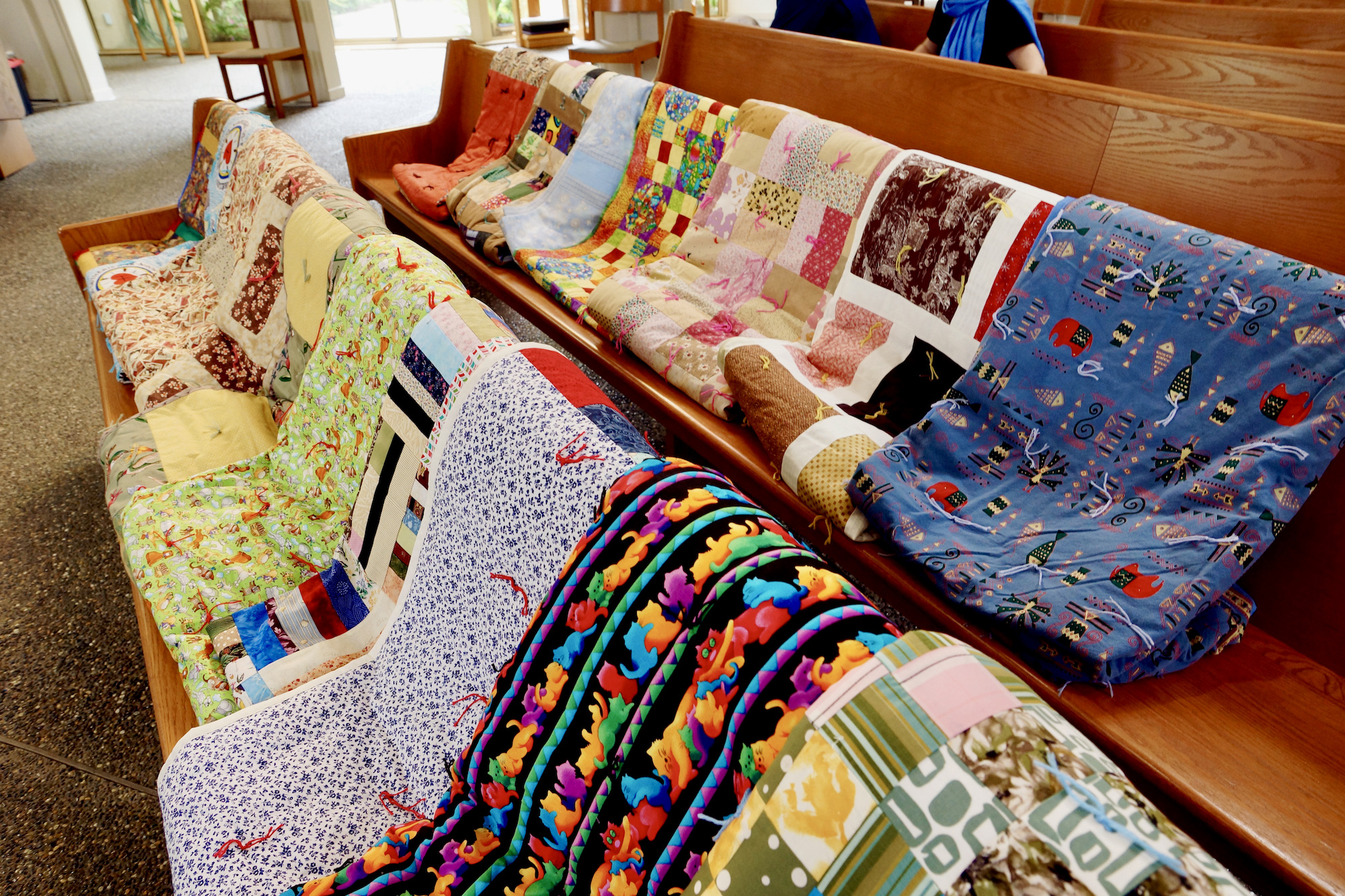 QUILTS bring Comfort to Ukrainian Newcomers
July 12 was a special Sunday. Not only did we bless the 20 quilts that had been in storage over the two year of the pandemic, we also hosted the Lyubchik family who had recently arrived from Ukraine. Serhii, Nataliya and their 3 yr. old daughter, Ieva were living in Odessa when the war broke out. Serhii was able whisked them out of the country immediately and they eventually made their way to Vancouver. Their family is growing with a new baby expected later in the Fall, and they were deeply appreciative of the quilts they received - especially the baby quilts made by Dorothy Sanders. In total, seven Ukrainian families comprising of ten adults and nine children received quilts. Pastor Vida has continued to stay in touch with the Lyubchik family as well as some of the moms who are here alone with their children due to the martial law not permitting men to leave the country.